"Bashota" – collection from heritage (licitars, toys, folk costume)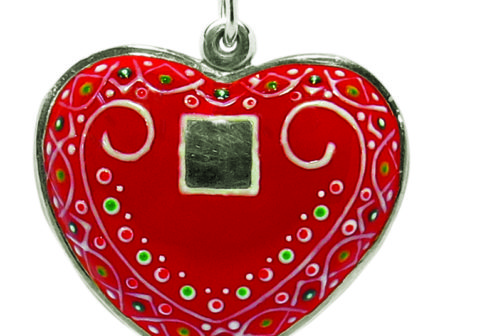 LICITARS
The Licitar is a Croatian national cultural symbol, a souvenir of Croatia that was included in 2010 on the UNESCO representative list of Intangible Cultural Heritage. Licitars appeared in Europe in the 13th and 14th centuries, when many European monasteries started baking biscuits and gingerbread in richly ornamented moulds. The centuries-old Licitar production in Northern Croatia (Croatian Zagorje, Međimurje, Podravina, East Slavonia, etc.) reached its peak in the 18th, 19th and 20th centuries.
The word Licitar stands for a special variety of gingerbread biscuits of specific shapes usually hearts and charming decorations which are hand painted and are sold at church fairs, annual festivals and tourist events.
The Licitar is a very special gift, a symbol of love, loyalty and respect. The convention of presenting Licitar hearts to loved ones is a Croatian tradition.
TOYS
Wooden toys of Croatian Zagorje were a traditional Croatian product created in the 19th century in Zagorje. The production has remained the same until today in the villages of the municipalities of Marija Bistrica and Gornja Stubica. The centers of production are: Bistrica Laz, Gornja Stubica, Marija Bistrica, Tugonica and Turunišće. There are about 50 models of toys such as: fifes, clappers (bird with rolling wheels), tamborines, wooden animals (mostly horses), whistles, car models, trucks, trains, planes, doll furniture etc. It is characteristic that they are handcrafted by men, and most of them are hand painted by women so there cannot be two completely identical toys. The toys are made of wood from the forests of the immediate surroundings: Willow, Maple, Beech and Linden tree. The wood is sliced, dried, hewn and the shapes are then cut out using a paper or cardboard pattern. The most common colours are  red, blue, white and black with illustrated floral and geometric patterns each toy having a unique painted design. These toys are on the List of Protected Goods of Intangible Heritage in the Croatian Cultural Heritage Register and since 2009 are on the list of Intangible assets entered on the UNESCO's List of Intangible Cultural Heritage.
COSTUME
The folk costume of Šestine is one of the most picturesque Croatian costumes of exceptional value. Thanks to the rich embroidery and weave the vividness of the costume itself is known throughout the world. The name comes after the church parish of Šestine, located in the central part of Zagrebačka gora. Over time it was exposed to various influences so it changed and became enriched. The growth and expansion of the textile industry pushed the costume out of the daily use. The men's folk costume was worn until the beginning of World War II, and women wore their costumes until the beginning of the 1960s.