Badel Pelinkovac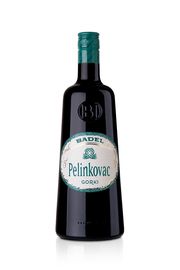 Badel Pelinkovac is the oldest and most known Croatian herbal liqueur and at the same time the best selling herbal liqueur in Croatia and the best selling liqueur by Badel 1862.
Badel Pelinkovac is traditionally a drink by which, as late as in 1862, the founder of today's Badel 1862, Franjo Pokorny achieved world fame. Badel Pelinkovac is produced according to a secret recipe which even today, uses traditional maceration process by selected herbal plants in which wormwood predominates (lat. Artemisia absinthium) which is drawn in basic liquid. After several week fermentation in wooden tubs it releases its best properties. One part of macerate obtained in this way is distilled in cooper still, after which the distillate and the masterate are fused into a finished product.
Badel Pelinkovac is consumed cold so as to emphasize its peculiar aroma. It goes well with a slice of lemon, and it is refreshing in combination with cola, juice, bitter lemon, tonic and similar drinks.