Aurelia – fresh pasta: Noodles, Wide noodles, Green noodles, Spaghetti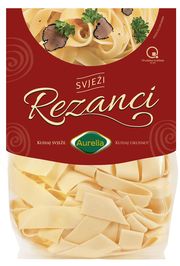 Green noodles
For pasta Aurelia are used only the top quality natural ingredients, such as green noodles and green by nature! Unlike other green pasta which is coloured with spinach, this pasta is special as it contains nettle, which gives it an unusual, intriguing flavour. Nettle has a positive effect on human health.
Spaghetti
Spaghetti Aurelia will surely satisfy the taste expectations of those who like pasta. The preparation of fresh spaghetti only takes a few minutes.
Noodles- Tagliatelle
The high quality and top ingredients of fresh noodles Aurelia just need to ennoble with a fine sauce.