Aurelia – fresh filled pasta: Tortelloni and Ravioli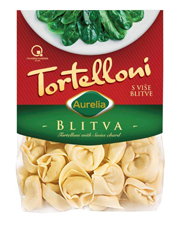 Tortelloni – dalmatian prosciutto
Tortelloni – four kinds of cheese
Tortelloni – Swiss chard and fresh cheese
Aurelia tortelloni are renowned Croatian product, primarily because of its way of production. A team of experts Nase klasje decided that all the ingredients of these multi-component products must be a food of the highest quality. The products are made of semolina, eggs, cheese, ham, Swiss chard, and do not contain additives or preservatives. Durability and freshness of the products provides a high commitment to the purity and the choice of technology that changes the minimum of the natural characteristics of the used raw materials. The passion in the preparation of recipes and production of Aurelia tortelloni creates pleasure to employees of Nase klasje and to customer of the products.
Ravioli with truffles
Ravioli with truffles were produced in collaboration with the company Miris Istre whose truffles have a unique taste and particularly appreciated quality and come from indigenous area of truffles near Buzet. Truffles are the main ingredient in hundreds of recipes, but a real taste of truffles is best felt in a simple combination with pasta. In the ravioli with truffles Aurelia dominant character of the truffles blends into new and irresistible gastronomical tastes that reflect the unique scents of Istria.
Ravioli with goat cheese
Ravioli with goat cheese have been created in collaboration with cheese factory Gligor from the island of Pag, with the eponymous cheese produced exclusively from sheep's milk. Gligora's cheese is distinctive and delicate spicy flavoured that melts in the mouth. Cheese from cheese factory Gligora received numerous awards around the world as the world's best cheese, and in ravioli with goat cheese is blended in very special combination of pasta Aurelia.