Service daily hospital with associated programs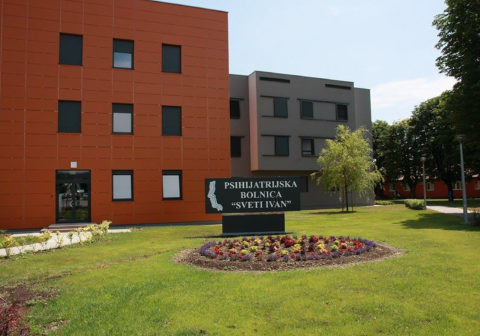 Early intervention on first psychotic disorder episodes (RIPEPP)
Early intervention meant preventive actions in psychiatry – early diagnosis and early treatment and preventing psychiatric disorder relapse with the goal of complete recovery and re-socialisation of the patient.
Why do we use early intervention ?
Different types of psychiatric disorder occur in 3,4% of the population and 80% have an onset during adolescence. A psychotic episode interferes with personality maturing, education, employment, independence from parents and fulfilment of mature social roles. Psychosis that has been discovered too late and not adequately treated hampers and slows the treatment process and also poses a potential danger of the disorder becoming chronic in other words delays in psychotic symptoms and damage in both the emotional and reasoning plans.
Goals of RIPEPP Program
1.Earliest possible application of adequate, effective and scientifically proven biological, psychological psychosocial treatment methods in patients with the early stage of a psychotic disorder.
2.Intense, individual work with the patient on his/her treatment and re-socialization.
3.Inclusion of family members as partners in the treatment process and rehabilitation.
4.Briefing and education of relevant services and the public of the necessity of early discovery and treatment of psychotic disorders.
The team that runs the RIPEPP Program
The RIPEPP Program is conceived and implemented by an expert team from the Psychiatric hospital "Sveti Ivan" – psychiatrists and psychologists – psychodynamic and KBT therapists, registered nurses and bachelor nurses and social workers.
16 psychiatrists, three psychologist, three graduate nurses, social worker and all residents of PB "Sveti Ivan" take part in the program.
RIPEPP Program Organisation
1.Hospital phase – at the moment of admission the process of a complete diagnosis and therapy of the patient as well as inclusion of family members takes place.
Establishing a therapy alliance
Personalized pharmacotherapy
Group psychotherapy in hospital conditions
Enrolling the patient and their families in a psychoeducational program
Enrolment in the activities of the Patient club "Zajedno(Together)"
The hospital part of the program takes place in the acute part of the Psychiatric hospital "Sveti Ivan" as well as in the Psychotherapy and sociotherapy Ward for early intervention
1.Outpatient phase – consists of the following activities:
Psychoeducation in 15 structured workshops educates patients and family members about causes, clinical diagnosis, the importance of timely and continual treatment as well as early identification of symptom worsening – it is run by psychiatrists KBT therapists.
Group psychotherapy for patients – once a week, an hour at a time, led by psychiatrists – group analysts.
Group psychotherapy for family members – twice a month, an hour and half at a time, led by psychiatrists – group analysts.
Psychosocial methods of treatment as part of the Patient club "Zajedno (Together" (practicing social skills, work therapy, creative therapy, recreation and tsl. three times a week).
Program RIPEPP Venue
Facilities of the Psychiatric hospital "Sveti Ivan"( Great Lecture hall "Mirko Grmek", facilities for group psychotherapy of Wards IX & X as well as facilities of the club "Zajedno").
PIPS – Integrative psychiatry program
Clinical experience and scientific research show that those suffering from chronic physical illnesses (pulmological, cardiovascular, endocrinological, neurological and gastroenterological) have psychic disorders occur two to three times more often (comorbidity), such as addictions, affective, anxious and psychotic disorders).
The most often occurrence is depression masked with physical symptoms and tiredness with an occurrence rate of 40%. On the other hand, those chronically mentally ill live on average 20 years less. The most common cause of death are non-diagnosed cardiovascular and malignant diseases.
The integrative psychiatry program (PIPS) is run by multidisciplinary teams lead by psychiatrists, with a nurse and psychologist as well. We nurture an integrative approach of on time recognition, treatment and rehabilitation. Treatment is done through personalized pharmacotherapy, with additional monitoring and oversight of interactions and side effects, and group and individual psychotherapy – cognitive-behavioural therapy.
The goal of the program is the timely and successful treatment and rehabilitation of mental disorders in chronic physical patients, and chronic physical illnesses in the mental patients, advance the cooperation in treatment of primary diseases, reduce the number of emergency interventions, hospitalizations and suicides as well as improving the quality of life.
The program is performed in specialized infirmaries of the Psychiatric hospital "Sveti Ivan" in Zagreb, though mobile field teams and in registered partner facilities (infirmaries, health homes and hospitals in Zagreb and Croatia).
Day hospital for eating disorders
Looking at the latest epidemiological estimates, 40.000 people in Croatia suffer from an eating disorder (anorexia, bulimia, compulsive overeating and NOT obesity).As a mental disorder with a high mortality rate, severe physical consequences and numerous prejudice, eating disorders affect the whole of a patient's family as well. Through it we arrive at a critical mass of people who are afflicted with this disease, which presents a significant public health problem. Years of experience working with mental disorders and eating disorders has spawned the day hospital for eating disorders program made out of two psychiatrists – psychotherapists, professor of psychology, senior nurse, work therapist and cook.
This 9-month program consists of several types of psychotherapy, work therapy, psychopharmaceutical therapy and continuous monitoring with supervision. The program is conducted within the PB (Sveti Ivan) in Zagreb, is a semi-open type, because enrolment is only possible during the first month and accepts 15 patients. The first program cycle (pre-program) was started in November of 2014, with a series of structured weekly lectures, while a more intense program begins on the 1st of December 2014, five times a week during two months. After that come six months with weekly meetings (post-program). The program is meant for labour, physical and intellectually competent people as it does not include lying in hospital. The daily duration in the intensive part of the program is six hours a day.
The next cycle start with the pre-program on the 8th of January 2014 at 3 p.m., pre-registrations can be made through the following contacts.
KOCKA – Therapy-rehabilitation program for gambling addicts
The increase in gambling and betting in Croatia during the last few years has been so great that this form of social life is becoming an accepted social occurrence, but consequences of gambling have devastating effects on the functions of an individual as well as on the whole family.
Problem gambling often develops into an addiction, which results in deadly consequences on the psychological, physical, business and social aspects of life. Epidemiological data shows that 1% of the general population in Croatia are gambling addicts, whereas about 5% of the population have a gambling problem, but the real scale of this addiction are far-reaching since gambling is considered a socially acceptable activity.
Therapy program for borderline personality disorders "reason and feelings" (RIO I & II)
Borderline personality disorder (BPD) is marked by high instability and inconsistency between reason and emotion part of a personality functioning. The RIO program connects and combines different theoretical and therapy approaches with the goal of achieving a higher degree of harmony between the rational and emotional part of a personality, better understanding of oneself and other people as well as better functioning in social relations. The advantages of a structured program for BPD at the day hospital is the possibility of a personalized pharmacotherapy and psychotherapy. The program lasts three months and is made of:
1.Psychoeducation for patients and family members
2.Group psychotherapy
3.Cognitive-behavioural workshop
4.Creative therapy (film, drama…)
5.Psychopharmacology therapy
6.Therapy communities
7.Individual support
STUP – Prevention and therapy of stress and trauma caused disorders program
It has become a fact that modern society neglects daily stress which is becoming a normal component of thinking and behaviour. The traditional family is falling apart, social activity is lacking, the rate of violence is raising, as is stress related to work, traffic and natural disasters. Encouraged by the need to help the mentioned group of citizens, we have devised a new program: prevention and therapy of stress and trauma caused disorders program.
The goal of STUP is integration of prevention and education (psychoeducation of potentially vulnerable groups as well as those afflicted and their families), as well as treatment (psychofarmaceuticals, psychotherapy programs and relaxation techniques), of stress and trauma caused disorders. The target groups are victims of stress, trauma as well as violence: domestic, work, social, traffic as well as victims of accidents in nature. The uniqueness of the STUP program is enrolling in diagnostic procedures of the health spouse/partner, in order to early detect (and if needed treat) indirect (secondary/vicarious) traumatization.
In order to avoid the stigma related to a psychiatric disorder/disease, the program is organized in the Day hospital. The program lasts for 3 months. Per agreement (need/motivation) we organize a continuation of the group psychotherapy method in our polyclinic. Pre-Registration for participating in the Program is possible after an indication interview with the program director mr. sc. Slobodanke Kezić.
PAM – Day hospital for dementia sufferers
MEMORY PROGRAM
Grand opening of the "Day hospital for dementia sufferers" (16.05.2015.)
The program is organized as part of the Day hospital for those suffering from dementia in the Psychiatric hospital "Sveti Ivan" in Zagreb. Lasts three months, every week from Monday to Friday, 8 a.m. to 4 p.m. The program is intended to prevent, treat and rehabilitate those suffering from dementia, family members and caretakers.
The program is carried out by a therapy – rehabilitation team made out of: psychiatrists, a consulting internist and neurologist, psychologist, nurse/technician, social worker and work therapist.
The treatment applies a holistic and individual approach. Pharmaceutical and non-pharmaceutical methods are used which include: exercises meant to improve mental fitness (laughter therapy, remembering happy days, communication, writing, reading, hobby encouragement, helping others….), multisensory therapy (music therapy, aromatherapy, and phototherapy), creative workshops (art and literary workshops) and social games. Psychosocial interventions are done through the counselling method, education-support groups and self-help groups.
The goals of the program are reducing the number of hospitalizations and institutionalizations, caretaker education and improving quality of life for the afflicted and their families.