Footwear VIKO Ltd.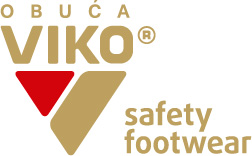 Footwear VIKO Ltd.
042/351-055
042/351-020
Traditional production of leather in Varazdin tanners has the roots old about 300 years.
Since 1945, first under the name "Pannonia", then in 1946 under the name Vio (Varazdin footwear industry) and later under the name VIKO, develops and increases production, and establishes their own wholesale and retail network (14 wholesale and 66 retail stores).
Today, 68 years later, Footwear Viko Ltd. is the leading company in Croatia in the production and sale of protective and work shoes.
The main production program is the production of footwear made of cow leather – natural face, with leather or special waterproof membranes and a thermoregulation and two-component (PU + vulcanized rubber) soles that are slip resistant, oil resistant, wear resistant, antistatic and resistant to the contact temperature up to 300 °C.
On our website www.viko.hr you can see the breadth of our production program, from which we highlight:
Roots program – classic leather safety shoes
special program – specifically designed for workplaces with special requirements and difficult working conditions such as shipbuilding, working on the railway, forestry, construction, metallurgy industry, chemical industry etc.,
white program – suited to the needs of hospitality, medicine and food industries
We employ 130 people, and in the production cycle, we own production of soles, leather and finished leather products, which in general makes a production portfolio of over 70 items of protective and work shoes. Per year we produce over 120,000 pairs of shoes. We always go in step with time and follow the latest technical and technological achievements.
Our specificity and advantage as a manufacturer is that we have rounded the complete cycle of production (tanner, sole making, shoemaker) and for this reason we can react promptly to all requests and needs of our clients.