Golden Vrbnik Žlahtina, a premium wine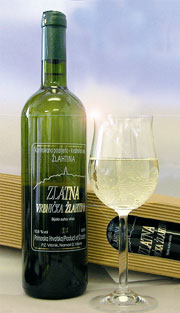 The Golden Vrbnik Žlahtina is produced from the indigenuos Žlahtina vine plant, cultivated in the area of Vrbničko polje on the island of Krk, certified with the geographical indication protection signature.
This high-quality made wine exudes an elegant taste with its unique aroma and freshness, expertly preserving all fruity bouquets, the harmonic undertones supplementing the lovely and vibrant taste. For maximum enjoyment, it is best cooled to 8-12 degree Celzius, and served with Medditerannean dishes.
The Golden Vrbnik Žlahtina is a product encapsuling Croatian traditional wine cultivating practices and wine production, and the indigenuos geographical island location of Croatian Littoral, where sustainable progress relies on continuous agricultural production complemented by the manufactoring of high value products