Zlatko – hybrid maize seed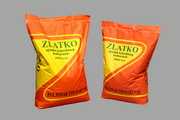 We are extremely proud of our ZLATKO maize, a hybrid of an extraordinary quality made by the expert team of scientists and cultivators in Poljodar tim. Domestic producers have recognised the value of this unique hybrid cultivated without any genetic manipulation. The ZLATKO hybrid maize seed is recognised in Europe thanks to excellent results in comparison to standard maize hybrids. ZLATKO achieved a recognition and was registered in the European Union in 2001.
The ZLATKO maize offers the best value between the quantity and the grain quality, it is a broadly adjustible hybrid to all weather and soil conditions, has the best usage of bioenergy by a land unit, it improves the conversion into food and minimalizes the time needed to fatten livestock, having farmers profit. The ZLATKO maize accomplishes high corn yield. It is yielding compared to similar hybrids by about 1,3 t/ha of corn. It also serves as a very valuable food product in human diet. The ZLATKO maize starch is especially valued in beer production. The shredded maize serves as superior animal feed. The scientific team of cultivators and experts in Poljodar tim has made in long years of selection and combination of enhancing materials without any genetic maipulation, a unique maize hybrid ZLATKO FAO 440 type semi-hard, that is… good for everyone!