Studenački pršut – prosciutto from the Studenci area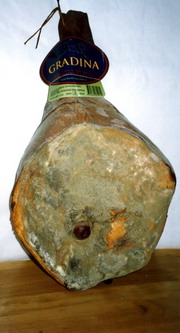 The Pršut manufactory Gradina uses century-old traditional local methods in manufactoring traditional regional prosciutto from the Studenci area. The product is made from specially processed pork leg with bone, cured, smoked and dried on fresh air in region-specific microclimate.
Our production is based on natural environment-friendly methods by using authentic raw wood material from Studenci and curing in specific microclimate conditions that result in distinctive flavour and aroma, promoting the authenticity of the product. Its unique shape and flavour makes it the top traditionally-made delicacy in the high value food product category.
The mix of the local tradition of manufactoring with the latest technological advances gained the Studenački pršut the "Original Croatian" quality of excellency award.