Slavonian jewelry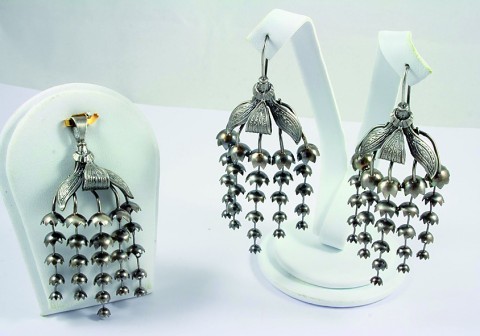 Noble territory of Slavonia, situated between the Drava and Sava Rivers, from the Danube and Bosut Rivers to Mt. Petrova Gora, which proudly creates its hardworking people and beautiful daughters, shrouds the gown of fruits and flowers' smell. Slavonia cherishes its folklore heritage and gives it to everyone. Slavonian jewelry is the evidence of it. With plenty of ducats typical for decorating Slavonian men and women, folk tradition preserves the shiny silver jewelry, especially male buttons and female earrings. The most attractive type of women's silver earrings in the range of traditional design is indubitably the lily of the valley. The name is associated with the spring flower called the Lily of the Valley or in Croatian đurđervak, sometimes also known as the "Pearl Flower" or "Caesar's flowers". Gentle and beautifully scented bell-like white flowers surrounded and protected by green leaves on one stalk inspired many jewelry creations in the playful baroque period. As Slavonian earrings, they swing again on the earlobes or as pendants on a chain around the neck they decorate the sensual breast of modern European women.
Such jewelry, revitalized by "Goldsmith Križek", gives a fraction of Slavonia's wealth to the world. Interest in the national cultural heritage and traditional Croatian jewelry is the focus of business activities and of evaluation of handmade jewelry assortment of "Goldsmith Križek". Lilies of the Valley and Slavonian jewelry (earrings and pendant) in the production of this goldsmith are made of high-quality silver, by combining several goldsmith techniques and precise manual work.
Conceptual and implementation projects by Goldsmith Križek – "Moretto", "Traditional Dubrovnik Jewelry" and "Slavonian jewelry" confirmed their right to use the "Croatian Creation" label received by the Croatian Chamber of Commerce. Collections of jewelry from these projects can easily attract people at the world fairs and markets because of their extremely valuable and attractive features.