Fish pate with Adriatic shrimp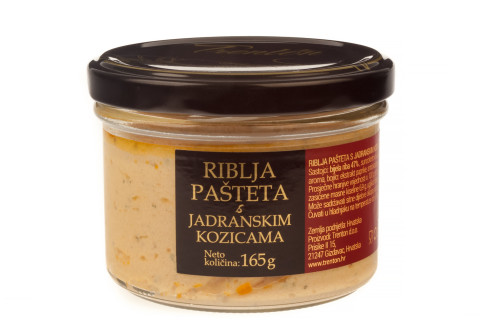 Gastronomy lovers and others who consider themselves knowledgeable when it comes about food, share an opinion about Adriatic shrimp: they are delicious. This pate is made of pure whitefish meat, with additional Adriatic shrimp tails and organic seasonings only.
The deliciousness comes from the smell and the taste of this carefully selected spices, and the secret to its durability (which was accomplished without the use of preservatives) is in the procedure of pasteurization. It also help preserve nutritional value of the ingredients of this product.
Trenton Fish Pate with Adriatic Shrimp is also easily applicable to fast food lifestyle since it is ready-made meal and it doesn't require further preparation.
This synergy of top quality recipe and highly developed technology results in natural, healthy and, above all, very tasty meal, appropriate as part of bigger meals or appetizers.
On the market, Trenton Fish Pate with Adriatic Shrimp can be found in 80 g, 165 g and 270 g jars.