Electrical distribution pedestals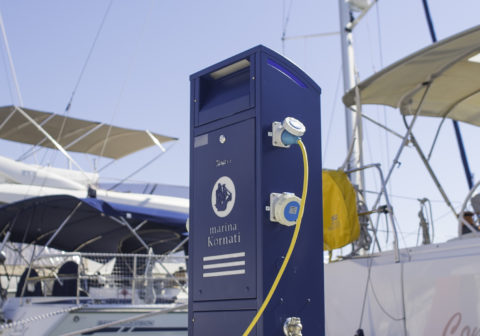 Electrical distribution pedestals are used to supply power and water to end users. They are manufactured according toHRN IEC 60364-7-709 for marinas and similar environments.
The materials used to manufacture electrical distribution pedestals are stainless steel, concrete and Brač stone. The pedestals are equipped to client's specifications.
Bravo
The electrical distribution pedestal Bravo is simple in design and small in size. Its functionality and robustness make it easy to use and an ideal option for marinas with lower energy consumers and campsites.
Tango
The electrical distribution pedestal Tango belongs to the new generation of Marex pedestals.
The careful selection of materials and modern manufacturing technology ensures high quality and functionality. Its wide range of power and ability to measure the consumption of individual users make it ideal for supplying electricity and water to vessels in marinas and port authorities.
The beauty of its simple design, different colour options and logo engraving on the front panel help highlight the visual identity of your company. Attention to detail in its design and the strength of the materials used make Tango excellent value for money.
Mega Tango
The electrical distribution pedestal Mega Tango was developed to provide a wide range of power for the supply of mega yachts and super yachts. The robust construction and increased sheet thickness in comparison to pedestals of lower power make Mega Tango particularly durable. Mega Tango is entirely made of stainless steel and can be plastic-coated in the client's chosen colour. Its sturdy construction, with a three-sided top light and illuminated logo, give it a striking appearance.
Mega Tango's wide power range and installation of a power consumption monitoring system make it an ideal product for marinas and port authorities. ¸
Oscar
In line with modern design, we have created the electrical distribution pedestal Oscar. It is intended for facilities such as marinas with lower energy consumers and campsites. Easy access to protective electrical components and three-sided lighting provide convenient power and water supply to end users. As with all Marex products, Oscar is notable for its high quality of workmanship.
Zulu
The newest Marex electrical distribution pedestal Zulu is the result of dedicated collaboration between professional engineers and designers. Its quality and design distinguish it from previous models.
With increased sheet thickness and improved construction, it stands out as the most robust cabinet on the Croatian market, and represents a blend of the company's tradition and modernity. As with all previous models, Zulu features a front panel illuminated logo and can be plastic-coated in the client's chosen colour.
Yacht
Developed in 1983, Yacht is the first electrical distribution pedestal manufactured by Marex. The casing and base are produced using vibrated concrete technology which makes the Yacht pedestal exceptionally robust and durable. The front equipment panel and back panel are made of polyester.
Yacht supplies users with electricity and water, which are physically separated to ensure reliability – electrical installations are located in the pedestal casing and water is located in the base of the pedestal.
Retractable electrical distribution pedestals or Pivoting electrical distribution pedestal
A retractable pedestal and a pivoting pedestal was developed in order to supply power in public areas. Space constraints of public areas led to the development of a pedestal which can be closed into its housing below ground in periods when there is no demand for electric power. The lid is made of cast iron, which meets the prescribed EN124 bearing capacity – C250 or D400 (25 or 40 tonnes). The construction and cylinder are made of stainless steel. The pedestal is raised by a gas spring and is closed manually using a key to lock it in its final position.