Plidenta toothpastes: Herbal, Healtcare 15Sekundi, Healtcare Parodont, Healtcare Sensitiv, Healtcare Freshmed, TotalMed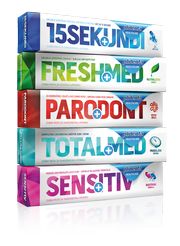 PLIDENTA Herbal
Other than fluoride, Plidenta Herbal contains a total of six plant extracts that gently act on teeth and gums: chamomile facilitates the healing of wounds and has bacteriostatic qualities; sage disinfects and strengthens gums; cinquefoil prevents inflammation of the mouth and is gentle to the mucous membranes; lemon balm has antibacterial and antiviral properties; hamamelis helps with infections and injuries, and rosemary deodorizes and has antiseptic powers. Plidenta Herbal is one of the most favourite toothpastes in Croatia and abroad.
PLIDENTA Healthcare 15Seconds
PLIDENTA 15Seconds is a sensational new solution to the problem of cavities. This special multifunctional toothpaste with a dual action mechanism against cavities is scientifically proven to work after only 15 seconds thanks to its unique formula with probiotic base and hops extract, which no regular anti-cavity toothpaste can achieve. Probiotic bacteria are clinically proven to eliminate the most common causes of tooth decay, namely the Streptococcus mutans bacteria, while hops further prevents them from clinging to the surface of the teeth and has anti-inflammatory and antiplaque properties. The whitening system in Plidenta 15Seconds is based on preventing the transformation of initial amorphous tartar into crystal tartar and will quickly bring back a dazzling smile on your face. PLIDENTA 15Seconds does not contain fluoride, preservatives or sodium lauryl sulphate (SLS).
PLIDENTA Healthcare Parodont
Thanks to its active formula and complete action mechanism, the new Plidenta Parodont is clinically proven to operate nearly 5 times faster than the most popular toothpaste against gum bleeding after just 7 days of use. It helps stop gum bleeding, irritated and sensitive gums, and prevents gingivitis and periodontitis. Sage aids in reducing bleeding and acts against gingivitis, soothes and tightens the gums; myrrh works to heal wounds; Salvadora persica acts against gingivitis, provides a special clean feel in the mouth, and restores the natural colour of teeth. Ginger is a known antioxidant that acts as a stimulant and anti-irritant, enhanced with the famous antioxidant coenzyme Q10 that protects and strengthens the gums against periodontal disease, reduces inflammation and repairs cells, while red rudbeckia assists in prolonging cell life, and fluoride additionally protects against cavities.
PLIDENTA Healthcare Sensitiv
Plidenta's new special toothpaste against hypersensitive teeth in comparison to similar toothpastes on the market works with dual action on teeth sensitive to external stimuli, and also safely diminishes this often uncomfortable sensation that troubles many people. It contains potassium nitrate and arginine, two active ingredients that deactivate the nerve tip, preventing irritation from transmitting further onto the nerve itself. Clove has soothing, antiseptic and anti-odour properties, while increased fluoride protects against cavities and plaque.
PLIDENTA Healthcare Freshmed
PLIDENTA Freshmed eliminates odours and neutralizes breath in the mouth more effectively than regular toothpaste because of its unique composition and X-COOL action technology. Parsley is a known anti- mutagen that eliminates odours in the mouth. Cinnamon acts as an astringent and purifies the mouth. Mint refreshes long after washing thanks to its unique X-cool mechanism that activates specific thermo-receptors in the oral cavity, which augment the especially strong sense of freshness in the mouth in comparison to regular toothpastes. PLIDENTA Freshmed contains no preservatives or sodium lauryl sulphate (SLS), and is recommended for people with halitosis issues.
PLIDENTA Healthcare TotalMed
With quality protective care our teeth are rarely ill. Plidenta TotalMed provides complete all-day enhanced protection of teeth and gums against cavities and plaque, tartar and teeth stains, and whitens teeth and nurtures the gums. It contains a rich formula with fluoride for maximum protection from cavities and plaque, while zinc citrate and xylitol reduce the bacteria that cause plaque, tartar and bad breath; allantoin soothes, nourishes and strengthens the gums; pentasodium triphosphate whitens teeth, and peppermint provides long-lasting refreshment. Plidenta TotalMed has a built-in unique technology with PVM/MA co-polymer to lengthen the action of the active ingredients for a surprisingly long time after brushing.