Mardešić fried sardine in olive oil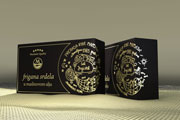 A new product from the factory Mardešić, from Sali on Dugi otok, is a fried sardine in olive oil. A golden-black wrapping hides a breath of freshness, a taste from deep sea and a silvery glittering of carefully chosen sardines. The recipe stemming from the traditional production of canned fish at the beginning of the past century brings us back to the time of original processing of fish, healthy Mediterranean ingredients and enjoying simple flavours coming from nature.
For the production of fried sardines in olive oil only fresh caught fish of best quality is used. Fish is processed completely manually and olive oil used for filling is of extra virgin type. The result is a gourmet product with top qualities in which all senses delight.