Holcim Majstor® sand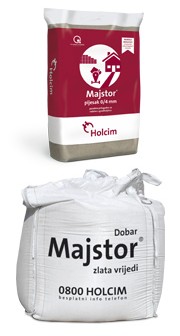 Construction material cannot be used by itself. During years of experience, Holcim have learned that the effect or the contribution of the specific separate material is not as much important as the effect that materials have when combined – their collective effect. This knowledge they have used to synergize Holcim Majstor® cement and Holcim Majstor® sand.
Fine-ground additive to the limestone in Holcim Majstor® cement makes the mixture creamy and sticky. When it is used with ground Holcim Majstor® sand, this characteristic is improved. In a recipe for making mortar and plaster Holcim Majstor® cement and Holcim Majstor® sand make a combination of high quality.
The advantages of using Holcim Majstor® products are excellent prolonged treatability – easier work and preparation of larger quantities of mixture; no adding of water needed due to prolonged treatability; easier fitting of concrete into panelling, improved adherence of mortar and plaster to foundation; larger capability of retaining water – reduced possibility of occurrence of cracks and subsequent efflorence; the given consistency is achieved by a lower water-cement factor; concrete bleeding is reduced; concrete care is made easier and impermeability is improved – limestone closes the pores in cement paste, increases the density, makes a more compact microstructure, which results in reduced porosity. Holcim Majstor® sand has granulation 0/4 mm and is packed into PVC sacks of 25 kg and large sacks of 1 t.