Baranja kulen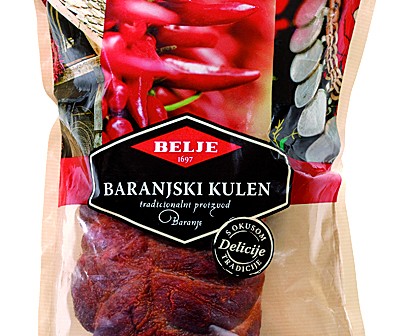 Baranja kulen – top product and nutrititionally valuable product
Old people from Baranja know how to preserve nutritional values of good quality meat and also how to produce a top product. Such production according to traditional recipes has been turned into Baranja kulen from Belje. The entire region, as well as entire Croatia is proud of Baranja kulen.
The taste of traditional kulen of top quality is the main characteristic of this product whose carefully chosen ingredients, good quality meet which is produced on proper farms and carefully selected red pepper and ripening which may last up to several months is the value which shall enrich any table. The proportion of meat and selected spices in the production of kulen is a part of hundred-year recipes which have been transmitted in Baranja from one generation to another and it is a secret which makes it such a gourmet treat. In order for this delicacy to be complete, Baranja kulen has obtained a new look – a bag which preserves its freshness and original taste from the moment it comes out from ripening to table and later.
High nutritional values of Baranja kulen are in the richness of vitamins and minerals. Pork leg meat of which it is produced is rich in highly valuable proteins, so that kulen is a rich source of selenium, zinc, vitamin C and B vitamins. Only four slices of Baranja kulen contain more than 50% of daily requirements for vitamin C and as much as 100 % requirements for vitamin B. Selenium is an important antioxidant which protects organism from activity of free radicals, while zinc supports immunology system. Vitamin C is also important for preservation of immunity, and vitamin B group, especially when combined, are important in various metabolic functions.
After a series of awards and golden medals that Baranja kulen has won in Croatia, a recognition of exceptional quality has come from Europe as well. International Taste and Quality Institute (ITQI) organises each year the evaluation "Superior Taste Award" at which an expert jury evaluates products coming from all parts of the world. Baranja kulen from Belje was awarded two quality stars by this eminent evaluation jury for extraordinary product.
The thickness of a cut slice is important for enjoyment in the richness of taste of this delicacy of recognisable form – Kulenari – the so-called masters from Belje recommend that Baranja kulen be cut to about 2 mm thickness for best enjoyment in its original taste.