AsYouWish software product for user-managed digital advertising and informing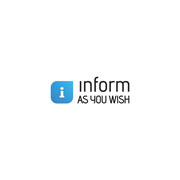 AsYouWish product line stem from the need to improve communication within the company and with its clients. This unique product line is in the accordance to our clients' demands and current needs. The line consists of five integrated products, that can operate independently of each other and can be implemented in stages or at once.
InformAsYouWish – digital advertising and informing on interactive panels
InviteAsYouWish solutions for queue managing and inviting
StreamAsYouWish solution for distributing visuals and digital television channels
PromoteAsYouWish solution for targeted advertising
SecureAsYouWish security platform for protecting the system
The main system attributes are:
– promptly informing the usersclarity of informing
– targeted advertising of products and services
– complementing information with visuals and the system security and malware and hacking protection.
The modular design is suitable for users who wish to implement specific desired modules and to avoid unnecessary cost. The modular construction and its components are making this system one of a kind among other communication devices.