Amarena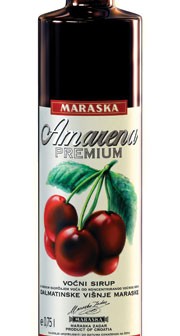 Fruit syrup Amarena is an original product by Maraska Zadar with flavor unique in Croatian and world market. The recipe for the present Amarena dates back to 1965 when Maraska Zadar started the production of fruit syrups as the first in this part of Europe.
It is made from fruit juice of Dalmatian marasca sour cherry – autochthonous fruit from Dalmatia the seeds of which when fresh or processed are extremely rich in minerals and vitamins. Mixed with water, Amarena is an excellent fruit drink and as a dressing on fruit salads, cakes and ice-creams gives them a unique flavor. For its originality and quality Amarena was awarded many prizes and medals.
In 2006, Maraska from the same raw material and according to the same recipe started the production of another Amarena – Amarena Premium, the first Croatian premium fruit syrup, but with a significantly larger share of fruit.